Therapeutic Massage (on the table)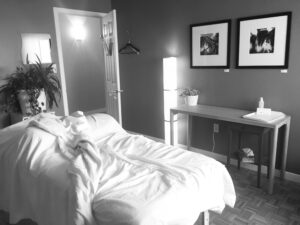 Adapted to your specific needs, Christine will gather as much information before you get on the table to develop a treatment plan based on your goals. 
Christine's treatments are unique in the way her knowledge of anatomy and movement are applied to help untie your physical and mental knots. 
When your body has aches, her goal is to hone in on the source. When you need an hour of escape, consistent pressure and flow is prioritized over releasing individual knots… the choice is always yours. 
Christine will generally recommend exercises to support your healing when an issue has become chronic—interrupting your daily activities and exhausting you with near constant physical tension. If you are experiencing any of the following, let's make a plan toward recovery (this list includes only the most common body pains, ask Christine if yours is not covered here):
Neck and upper back pain—sometimes referring down one or both arms, into the hands.
Lower back pain—stiffness when standing up after long periods of sitting, pain walking long distance and/or uncomfortable during sleep.
Wrist and elbow pain—weakness in the hands and acute pain in elbow.
Jaw tension (TMJ)—headaches, earaches and jaw pain from clenching or grinding teeth.
Sciatica—most often this is a muscle issue in the glutes (buttocks). Often it is confused with nerve because the pain can travel down the leg.
Plantar Fasciitis—the muscles of the lower legs affect the feet and knees, when they are out of balance the pull on the sole of the foot can be debilitating.
Tension headache—headaches can come from tension in the muscles of the neck, face, jaw and/or sinuses. We will explore all of these options to find the source.
Thai Massage (on floor mats)
Thai massage is a flowing sequence of passive movements that directs circulation into the joints and stagnant areas of the body. Repetitive motion and slowly delivered pressure effortlessly coax the nervous system into a state of rest. The hallmark of thai massage is embodiment through breath. Without intention, your breath will naturally coordinate with the flow of movement, delivering renewed vitality, a feeling of connection, and deep release.
Thai is done fully clothed on floor mats. Please wear non-restrictive long pants and sleeves.
Christine began her thai massage training in 2003 with the late Kam Thye Chow, founder of the Lotus Palm School in Montreal. While her practice has expanded over the years, the flow and philosophy of touch instilled by Kam Thye continue to be the foundation of her work.
watch the video for a small sample of Thai:
How Often Should I Have Massage?
This is a questions that comes up regularly, and the answer depends on your situation and goals.
Once a Week: by the time your pain/tension is to the point that it is infiltrating all of your interactions, it's time to get serious about repair. The longer you have had the issue, the bigger the commitment. Regular treatments (including home care exercises) will bring you to a point where you are no longer in constant pain and can begin spreading out treatments.
Bi-Weekly: by the time your body begins to hold the good results of your massage for longer periods, you can increase the spaces between treatments while doing specific exercises at home. Begin by trying a ten day gap and continue to space treatments further and further until you are symptom-free.
Once a month to six weeks: clients who receive regular massage often report they not only feel better in general, but they experience fewer flare-ups of their common aches.
The most common scenario for a chronic condition is three to four weekly treatments. If you are consistent with the exercises prescribed, you can begin a bi-weekly plan for one to two sessions. Once you continue to feel good, you are well on your way to a maintenance routine, scheduling appointments only if the warning signs of pain begin to return. 
** Remember, pain is the last symptom to show up, and the first symptom to disappear. When you start feeling better, it signifies the issue is improving—stopping care too soon will have you starting from the beginning if the pain returns.
These are general guidelines, and Christine will never suggest you do more or less than what you feel is right for you.
Curious about which style is right for you today?
Thai massage is always head to toe. Specific injuries are better addressed on the table as thai delivers a non-specific full body experience of wellness.
Thai massage is great for inactive bodies and active minds. It is an effective way to energize a sluggish system, calm an agitated mind and begin the process of repair to stressed immune cells.
Book Now
If you are not a current client please email Christine at  b o d y w e l l t h e r a p i e s [at] g m a i l [d o t] c o m to request access to the booking calendar. For priority booking status be sure to include the name of the person who has referred you.
No referral, no problem! Let us know how you found us and what your treatment goals are (this details is required to determine whether Christine's skills will fit your needs.)